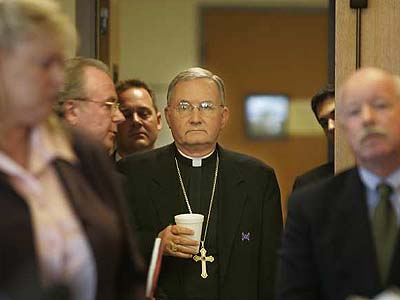 I just ran across a story at OC Weekly from December about Bishop Tod Brown's continuing machinations to build a new "cathedral" in Costa Mesa.
It appears that the legal entity set up by Bishop Brown to receive contributions for his pyramid cathedral project has been suspended by the California Secretary of State. Here is the info as of 26JAN2011.
| | |
| --- | --- |
| Entity Name: | CHRIST OUR SAVIOR CATHEDRAL FUND, INC. |
| Entity Number: | C2564295 |
| Date Filed: | 11/12/2003 |
| Status: | SUSPENDED |
| Jurisdiction: | CALIFORNIA |
| Entity Address: | PO BOX 14195 |
| Entity City, State, Zip: | ORANGE CA 92867-1595 |
| Agent for Service of Process: | MARIA RULLO SCHINDERLE |
| Agent Address: | 2811 E VILLA REAL DR |
| Agent City, State, Zip: | ORANGE CA 92867 |
This suspension occurred in May of 2010. Nonetheless, in July of 2010 the Diocese announced the selection of  Craig W. Hartman, FAIA, of Skidmore, Owings & Merrill LLP (SOM) to design the new Cathedral of Christ the Savior.
It's location is on a 15 acre parcel near the intersection of Bear St. and West MacArthur Blvd.
Mr. Hartman is an interesting guy. He was made a Papal Knight of St. Sylvester by Pope Benedict XVI in 2008.
Hartman is also the designer of the Cathedral of Christ the Light in Oakland (exterior and interior below).
I guess I am not as worried about Hartman as I am about Bishop Brown. He may want something akin to Cardinal Mahoney's minimalist Protestant barn in downtown Los Angeles.
Here's what a recent Diocese of Orange press release had to say:
"The Phase One challenge is to artfully create a new cathedral complex that will meet the present social and spiritual needs of the 1.2 million person diocesan community and to accommodate anticipated growth.  From the outset, Bishop Brown has emphasized the diocese has no interest in copying the past and will make every effort to develop a structure that respects the environment as much as it will its people. This new facility, as the focal point of Catholicism in Orange County will embody the church's spiritual commitment to environmental stewardship. … The new Cathedral, the first true diocesan cathedral in the Diocese of Orange, will serve as a visible and central pastoral campus for generations to come. An important distinction for the new Cathedral is the long-range plan to make the complex serve ecumenical as well as parochial needs; and to become an important spiritual and cultural center for all of Orange County."
WOW!
No interest in copying the past…

Embody spiritual commitment to environmental stewardship…

Serve ecumenical needs…
In the hands of Bishop Tod Brown, under his leadership, this is neo-modernist "doublespeak" from a lost chapter of Orwell's "1984."
I take heart from one undeniable fact.
Bishop Brown was born on 15 NOV 1936.
On 15 NOV 2011 he turns 75.
For a Roman Catholic Bishop that means:
M  A  N  D  A  T  O  R  Y
R  E  T  I  R  E  M  E  N  T  !
Can the momentum of this juggernaut be stopped for 10 months?